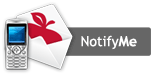 Northside Elementary School
2016 - 2017
Together we SOAR!!!
Our Mission:
To provide a safe, nurturing, and challenging school environment in which students become socially responsible, lifelong learners.
Our Purpose:
To work with our faculty, staff, and community to design and implement a school-wide system of programs developed to support the specific academic, behavioral, and social needs of our students.
________________________
If you would like to receive emails or a text alert from Northside Elementary, please click on the 'Notify Me' button to set up how you would like to receive your message. You can receive either a cell phone text message or an email.